Tabor College is proud to partner with Kings Baptist Grammar and SMG in bringing you Dr Lori Desautels to present a 1 day masterclass in applied educational neuroscience.
Neuroscience to Engage Learners; "Connections Over Compliance"
Wednesday, 7 September 2022 | 9:00am - 3:30pm
Author of 'Connections Over Compliance', Dr. Lori will share tips on how to interact with our kids in a relational way, whilst preparing them for the challenges life throws them. Dr Lori is a mother and a classroom teacher who shares relatable, real-world examples of how to support families.

Dr Lori will be presenting a practical day to understand student and adult brain states and how to respond to behaviours at home and in the classroom. If you are a parent, educator, or involved in the care of children, this is not a day to be missed!
WHO IS THIS FOR?
Please note that this has been set up specifically for:
Tabor students wishing to purchase tickets to the event at heavily discounted rates (please refer to your email for promotional codes); or
Tabor Alumni/other Tabor networks who wish to purchase professional development tickets or micro-credential tickets as part of the Tabor Ascend program (please see below for more information on the Tabor Ascend program).
If neither of the above apply, please note you can alternatively purchase tickets here:


WHO IS THIS FOR?
Dr. Lori's Masterclass will cover:
How to shift our perceptions of children's behaviours and discipline from an outdated view that sees all behaviours as choices.
The future perspective is based on modern neuroscience, attachment, trauma, and developmental research.
Brain-aligned relational discipline
Practical activities, brain breaks, and connection exercises for you to take home and to the classroom.
How your adult brain state affects the children around you.
This day will be helpful for teachers, parents, and other professionals to understand what is going on for our children and most importantly practical strategies and steps towards engaging them at home and at school.

"A dysregulated adult cannot regulate a child. An educator who listens deeply, stays connected through the chaos, and perceives a crisis as an opportunity is the person at the heart of brain-aligned relational discipline." Connections Over Compliance: Rewiring Our Perceptions of Discipline - Dr. Lori Desautels

Morning tea, lunch and barista coffee will be provided by Milk & Honey Café.
---
WHY TABOR ASCEND WORKSHOPS
This workshop forms part of the Tabor ASCEND program. Tabor Ascend PD Workshops are different because they have been developed with flexible attendance options to allow you to decide what YOU want out of your PD. This means workshops can be completed for a variety of purposes including personal or professional development; to obtain a micro-credential; or to use toward a higher education award.

Further details on these attendance options are detailed below: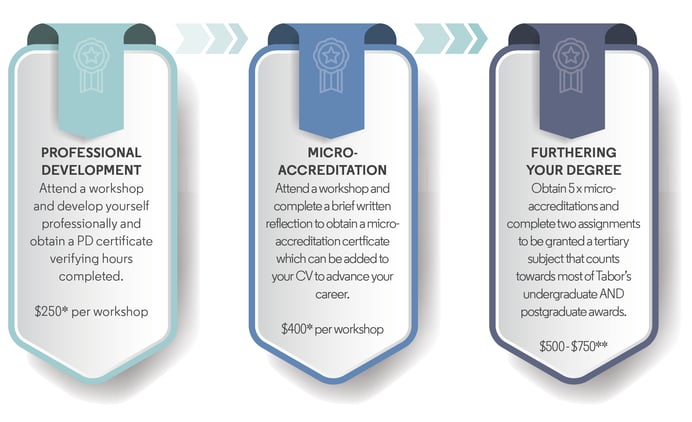 To find out more about how you can leverage PD toward a micro-credential or higher education qualification, please contact Amy Marsland at amarsland@adelaide.tabor.edu.au.
---
ABOUT THE TABOR ASCEND PROGRAM
Workshop topics selected based on community feedback to ensure real world application
New workshop dates constantly being released (for upcoming options, please see below)
Designed to support the ongoing growth and development of those involved in education, counselling, chaplaincy, youth work, ministry, leadership, community services or the not-for-profit sector
Centres on the provision of relevant, meaningful and practical PD.
---
2022 TABOR ASCEND WORKSHOPS