God alone is sufficient
Last week Bruce reminded us of the centrality of the life and death cycle to all of human experience. The gospel at its heart is an assurance to us that death is framed within a larger narrative of the circular nature of life and thus it is not something to be feared in any of its forms. The journey towards no fear is a long one. The attitude towards life's various endings, losses and their relationship to new beginnings and larger spaces is one that a person may cultivate over years and decades. The keys to such cultivation are a perpetual immersion into the mind of God and a willingness to lean into patience. Consider the following cryptic exchange between Jesus and the Pharisees: At that time some Pharisees came to Jesus and said to him, "Leave this place and go somewhere else. Herod wants to kill you." He replied, "Go tell that fox, 'I will keep on driving out demons and healing people today and tomorrow, and on the third day I will reach my goal.' In any case, I must press on today and tomorrow and the next day—for surely no prophet can die outside Jerusalem! (Luke 13:31-32).
In normal human experience when a person in authority tells you that another person in even higher authority is coming to murder you – anxiety and flight are the usual responses. What we see however in this passage is Jesus the fully human person demonstrating a new normal. In Jesus mind the threat of death is superfluous, he is fully engaged with his mission, having discovered that true life is found when we stop trying to cover our own backs all the time and give ourselves compassionately to the person, situation or duty in front of us at this present moment. Jesus understands that death will come, but in God's strategic timing and place, not that of the scheming of men. He also lives in the assurance that resurrection will be the final outcome. In other words, God will subvert the murderous plans of the wicked to flip their scheming into a vehicle for universal liberation. God does that. This is the gospel. Love wins. Not just once in this historical situation, but all of time, everywhere, for those who have immersed themselves in the mind of God and have gained from God the patience to wait and the eyes to see.
We are invited into an attitude and posture in life of no fear. Of being present in compassion and attentiveness to where we are now and the small duty in front of us. Of letting go of self-protection, of trusting the movements of divine providence, of anticipating resurrection as the constant, ultimate final word and outcome of God at work in our stories. This is freedom from attachment and an abandonment to divine providence.
Imagine what it could look like for you to immerse yourself in the mind of God, over days, weeks, months and years to the point that the scary things of everyday life no longer spook you.
What practices have you already discovered that draw you into that centring peace and sense of being cherished?
What does it feel like to turn from self-preoccupation and self-protection to the small act of loving presence to the person, situation and duty that is now in front of you?
As you look back over your personal history what stories and experiences of resurrection do you notice?
How has the love of God reached you in the midst of your life as it has actually been (rather than what others have told you it should be)?
In closing, let us consider the essence of this message as expressed in the prayer of Teresa of Avilla (1515-1582)
Let nothing disturb you, nothing frighten you,
all things are passing,
God is unchanging.
Patience gains all;
nothing is lacking to those who have God:
God alone is sufficient.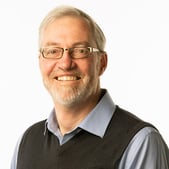 Phil Daughtry is a senior manager at Tabor and he teaches in the field of contemporary spirituality. He has a reputation amongst his staff as a caring and empowering leader. His students speak of his gentleness, clarity of communication and capacity to teach critical and reflective thinking skills. Phil is active in research and participates in international conversations about the place of spirituality in life, work and society. He is a member of the International Network for the Study of Spirituality (INSS) and the Society for the Study of Christian Spirituality (SSCS). His own spiritual journey is one that is shaped by contemplative practices from the Christian tradition and a progressive theological worldview. When not at work, Phil is happiest in the garden, on his BMW motorcycle tourer, fishing, camping, spending time with his wife, adult children, partners and grandchildren, and supporting the Adelaide United Football (soccer) Club.